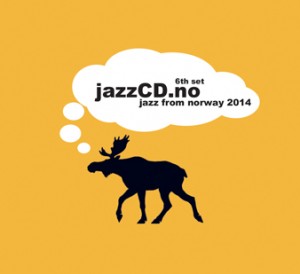 Norsk jazzforum lanserer i samarbeid med Utenriksdepartementet promo-CDen jazzCD.no – 6th set – jazz from Norway 2014. Dette er sjette gang norsk jazz promoteres på denne måten ute i verden, og Norsk jazzforum og UD er glade for å kunne videreføre et suksessrikt samarbeide. Utenlandske medier, festivaler og arrangører kan gjennom denne trippel-cden bli kjent med hele 43 forskjellige norske musikere/band som representerer bredden innenfor norsk jazz.
5000 eksemplarer av jazzCD.no distribueres nå gjennom Norsk jazzforums eget nettverk, UDs utenriksstasjoner, Europe Jazz Network, samt en mengde utenlandske medier og konsert- og festivalarrangører.
JazzCD.no – 6th set – jazz from Norway 2014:
Arild Andersen Trio – Stein Urheim / Mari Kvien Brunvoll – Steinar Raknes Quartet – Wenche Gausdal – Terje Gewelt – Beady Belle – Hayden Powell – Eyolf Dale – Hilde Hefte – Mopti – Espen Eriksen Trio – Kåre Nymark Jr.  – Karl Seglem – Maryland – Susanna And Ensemble Neon – Mats Eilertsen Trio – Marius Neset – Chili Vanilla – The Deciders – Albatrosh – Arve Henriksen – BWM Trio – Pixel – Splashgirl – Ensemble Denada – Petter Wettre & Jason Rebello – Friends & Neighbors – Gunhild Seim – In The Country – Eldbjørg Raknes – Cortex – Bly De Blyant – Sidsel Endresen & Stian Westerhus – Zanussi 13 – Chrome Hill – Skrap – Hedvig Mollestad Trio – Honeyleap – The Source – Grand General – Bushman's Revenge – Atomic – Stian Westerhus
Liner notes jazzCD.no 6th set av den britiske jazzjournalisten Fiona Talkington (BBC3):
«From Svalbard in the north, to Kristiansand in the south, across the length and breadth of Norway people are making music. There are Jazz Festivals and Jazz clubs, conservatoires and schools. There are musicians on the roads, on buses and trains, and Norwegian airports are, on a daily basis, sending out guitars and drums, saxophones and trumpets and, (hopefully!) bringing them back again. To put it simply, Norway is overflowing with jazz.
Norway's jazz musicians are building on traditions and breaking boundaries, they are doing what feels right for them with open minds and hearts in an environment which seems, at least from the outside, to give permission to musicians to be themselves, to develop their individual voices. There's honesty and humility in the music and a quiet but strong, determined pride and determination to produce the very best.
Even the word 'jazz' isn't enough to contain the creativity and imagination of the musicians working today. Jazz -the experimental and improvisational nature of this music – infiltrates contemporary music, engages with folk traditions, draws on styles of centuries long gone, and dances with the current pop and rock scenes.
Musicians lead broad creative lives, inspired by playing across genres and cultures with musicians from different backgrounds. It's the musicians' energy which keeps Norway creatively afloat and it's important to listen to their needs, hopes and visions. Official Norwegian support has made it possible for musicians to interact and collaborate internationally, thus fuelling this strong creative thread even more.
So maybe this new compilation will serve as something of a 'calling card' not just for Norwegian jazz but for Norwegian culture as a whole. It's the tip of a creative iceberg, but how exciting for newcomers to the Norwegian jazz scene to know that it's possible to keep unearthing new sounds, new musicians which never fail to excite, delight, intrigue and inspire. It's a mixture of names which have been familiar to audiences outside Norway for years, as well as younger emerging artists.
Even if names are familiar, the music you hear on these CDs might be very different from what you imagine.  It's music from performers and composers who don't stand still creatively, to whom complacency is unknown territory. There's a creative urgency that's deeply attractive to someone like me who was swept into the Norwegian music scene nearly twenty years ago, as well as to audiences around the world who are falling for that 'buzz' around Norwegian jazz. And if there's one thing you can be sure of, whether from established artists or newer names, there is a trademark Norwegian high quality of technique, production and sound.
Outstanding quality, beguiling musicianship: that's Norwegian jazz! Now sit back and listen!»